I'm excited to share Caitlin Muir's answers to my live uncaged questions. She works for Author Media and blogs about the single life.
I'm offering another necklace giveaway! Yes! (And if you're a boy, please enter because you could give this as a gift). This is another offering from Barberry and Lace. Here's a pic: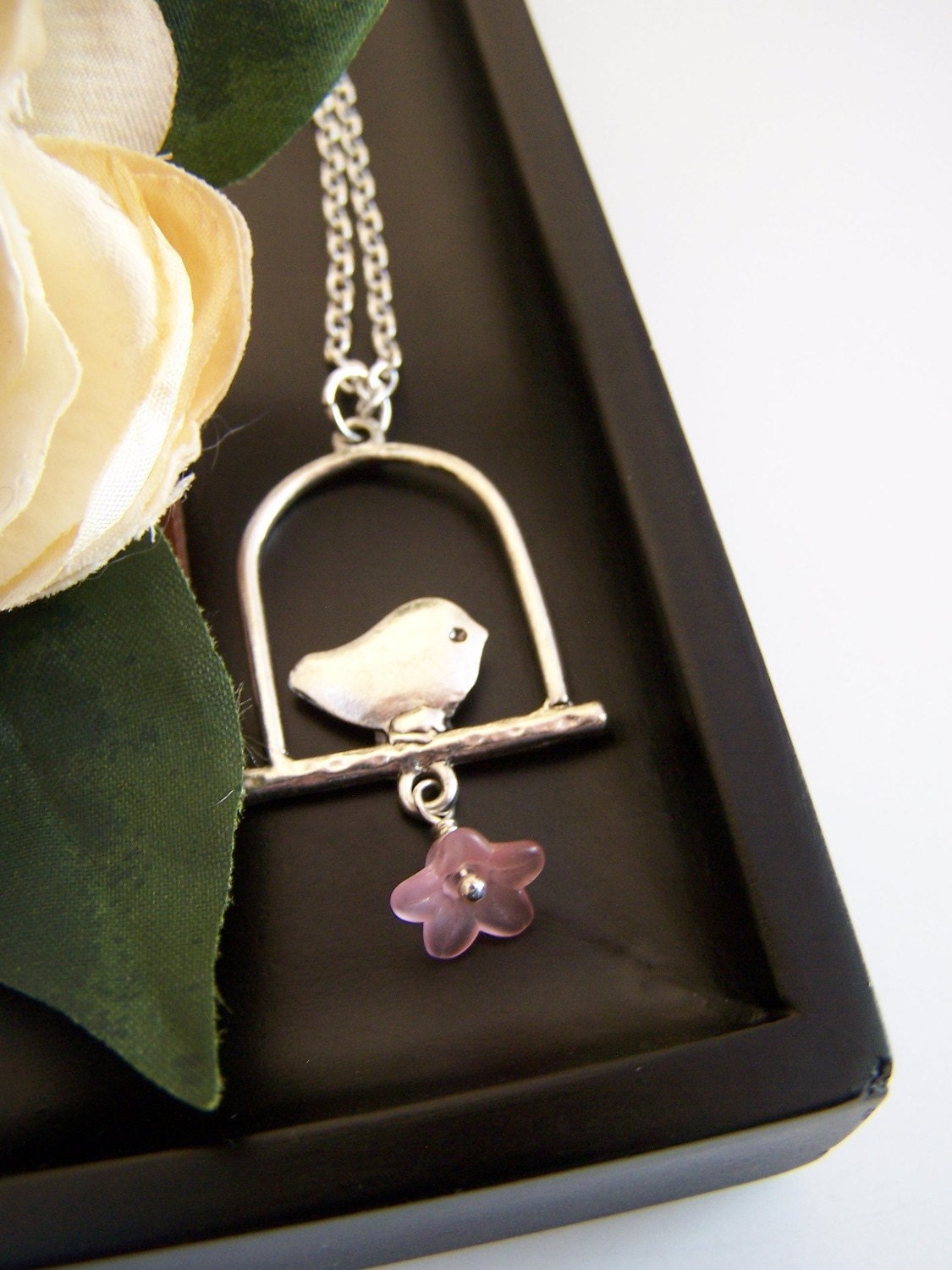 To win, please answer the question at the bottom. Get more entries if you tweet or facebook a link back to this post. Thanks!
Here are my questions, and Caitlin's answers follow close behind.
What would it look like for you to live uncaged in 2012?
What has prevented you from living a truly free and unencumbered life in the past?
Give my readers advice. What's one practical thing they can do this year to live uncaged? (This can be silly like dancing in the rain or serious like eat more chocolate.)
Who in your life is an excellent example of living uncaged? Why?
If you could design a Live Uncaged sweatshirt, what would it look like?
1. I think that living a "safe" life ends up smothering your soul. It may be comfortable at first, but slowly and surely, the safeguards you make will kill you. Stepping out in faith, trying new things, delighting in a rediscovered passion, those are the things that unwrap your soul and let it breathe again. In 2012, it means that I'm stepping away from my fears and insecurities. I'm getting involved in comment, taking chances with my writing, and getting serious about what it means to be a follower of Jesus.
2. Growing up, I believed a lot of lies. I had believed that just because I didn't look like a model, people wouldn't want to be my friend. I thought that even though I knew God offered grace, that His followers wouldn't offer the same grace. There were many whispered lies that kept me from living vibrantly. Fear of rejection firmly being on the top of my list and it smothered me. It wasn't until I started realizing that God loved me (and actually liked me!) that I was able to start replacing those lies with God's truth. It's been a life changing experience. Knowing that someone loves you, flaws and all, gives a deep feeling of security. And once you have that security, watch out! The world is yours to be enjoyed.
3. Look in the mirror. Tell yourself that God loves you. If that seems cliched, tell yourself that He not only loves you but He likes you as well. Then make a list of things you want to do before you get old or boring. They can be as serious or as whimsical as you desire. Dare to cross them off. Need starters? Here's my list of things I'm working on before I'm old/boring/30 (whichever comes first).
4. My younger sister Laura is a good example of someone who is living uncaged. When she started dating her husband, he gave her the support she needed to start living adventurously. She glows. Since she's met her husband, she's bought a motorcycle, climbed a mountain, and conquered her fear of the water so she could go snorkeling in Hawaii. While other wives are staying at home while their husbands are "off on an adventure with the boys", my sister is out there having adventures with her husband. I think that's pretty awesome.
5. I'm not a huge fan of sweatshirts. But if I had to design one, it would be fitted, more of a tunic length, and have a hood like this. I don't know if you want to use that link or not. Someone forgot their pants. 🙂
Bio – Caitlin is a 20-something who writes about faith, love, and social media. Her motto is "Life is an adventure given to you by God – enjoy it!" When she's not off adventuring in her convertible, she can be found reading, writing, or getting herself in all sort of mischief. You can connect with her at CaitlinMuir.com or follow her on Twitter here.
…
To win the necklace, answer this question:
How have you played it safe, and how will you break away from that in 2012?
BE SURE YOU PUT YOUR EMAIL ADDRESS in your entry (like this: mary @ marydemuth dot com). Your answer gets one entry. If you tweet about it, write "I tweeted" as another comment for another entry. If you facebooked, do the same thing. (Keep adding your address!) I'll pick a winner on Monday.