Allume Social is a terrific conference. It used to be titled Relevant, and I had the privilege of attending on a scholarship last year. I learned so much about Jesus, blogging, and so much more. Definitely worth the time, money and energy. And fun news! I'll be speaking there this year.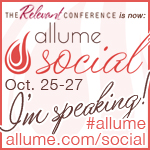 So much fun!
Here's a trailer to get you pumped:
Registration is tomorrow, so make your decision now. There's always a waiting list.