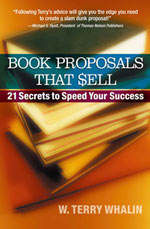 Author Terry Whalin has written an amazingly helpful book for those wanting to publish a non-fiction manuscript. Book Proposals that Sell: 21 Secrets to Speed Your Success offers practical, succinct advice to help authors create attention-grabbing proposals.
He gives authors a much-appreciated insider view of why editors and agents reject the many projects coming across their desks, while offering sound tips for rejection-proofing a non-fiction proposal. He also provides proposal samples for those who learn by seeing an example.
From teaching the importance of creating a stellar marketing plan (complete with special markets consideration) to encouraging writers to juggle multiple projects, Whalin's experience both behind and beyond the editor's desk helps authors navigate the publishing industry's often fickle seas. Whalin, rightly, stresses the importance of relationships within the industry.
My favorite secret was his last: Always Take the Attitude of a Learner. None of us are ever "too big" to keep learning the craft of writing. His words encouraged me to continue to be a lifelong learner.
Complete with personal stories and the authority of someone who's been there, Whalin's book is a must-have for anyone wanting to publish non-fiction.